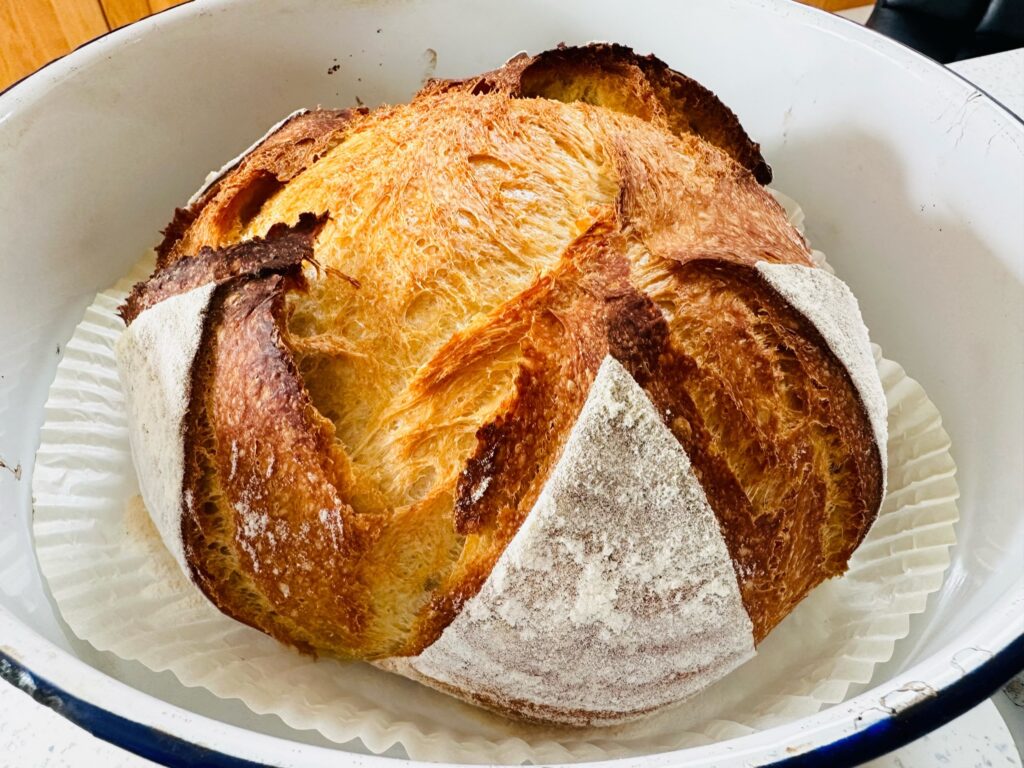 Give your dough the time it needs to fully prove.
Watch your dough and not the clock, this is key to ensuring the dough proves as it needs to.

Do not leave dough on the oven overnight with the light on, it?s too warm for too long and it will over prove.
Give your dough time to double overnight; depending on the temperature overnight this may take shorter or longer than my usual times stated in my master recipe.

But if your dough does over prove, use it to make fabulous focaccia or flatbreads. NEVER EVER throw dough away, always use it.

If you dough spreads when you turn it out in the pan, but bakes up to a lovely loaf, don?t worry about the spreading, enjoy your loaf.
If your dough does not look like mine but bakes to a fabulous loaf, that is perfect, it does not matter what the dough looks like if the loaf is everything you hoped for.
Sourdough is a wonderfully slow process, let it happen and enjoy it, it will be worth it.
If you do not have a banneton, line a same sized bowl with a clean tea towel and sprinkle it with rice flour.

If you do not have rice flour, grind some uncooked rice, it is the same thing.
You can use any covered oven proof pan just make sure it is big enough.
You do not need to preheat your oven, or your pan.
Always my biggest and most important tip: If it tastes good IT IS GOOD!

Do not focus on looks and holes and scoring, they do not make it taste any better, plus sourdough is not defined by having ears, or being big round loaves, or full of holes. Sourdough is bread that has been made with a sourdough starter, that is it.
Enjoy what you are creating, do not spoil it by being pulled into the beauty contest.
But, if your loaves are not as you hoped, there?s always ALWAYS a particular reason and an easy tweak.
Check out all of the info throughout my site about flour, weather, scoring, storing, the FAQs, baking times takes, there is lots of free info here for you.
These are just some of the tips I share regularly, but are hopefully useful. Happy baking!