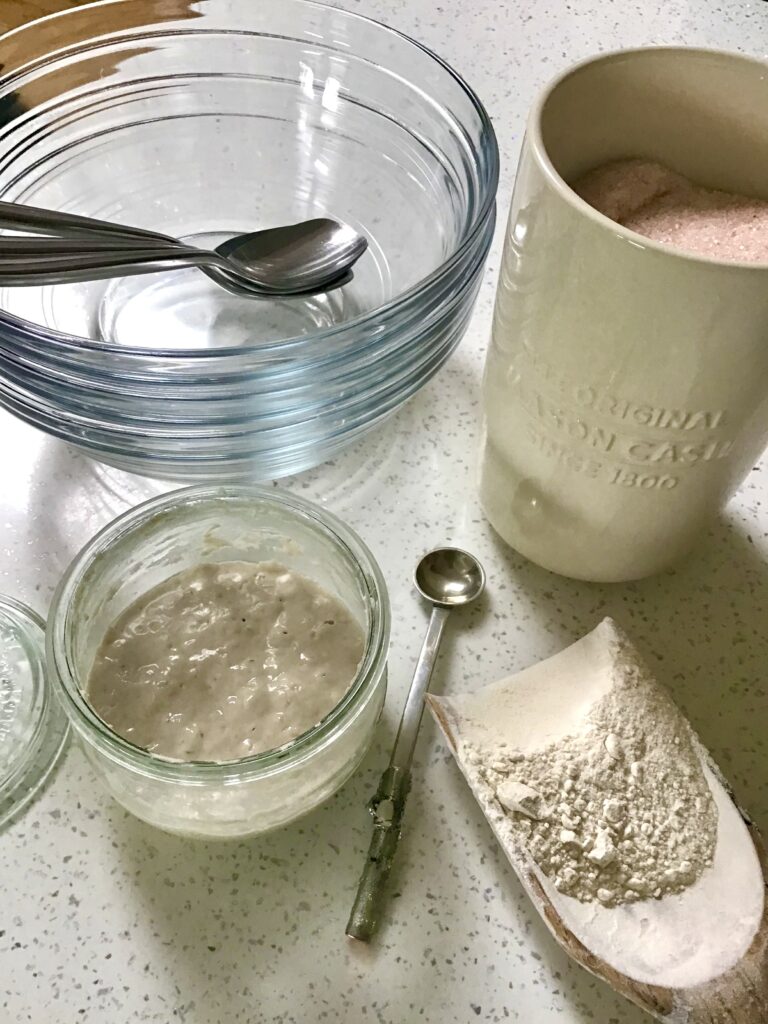 Below is a list of the things you ideally need to make my recipe, these are my recommendations; some of the things you can substitute or find alternatives in your kitchen, which I've noted for you, but this would be my preferred list. It might seem like a lot of things initially, but if you use them week after week as I do, you'll see that it's worth the investment.
*Starter, fed and ready to use – see my information pages about starters
*Glass bowl with fitted lid for your starter, I like glass bowls with fitted lids or Weck jars, see the link from my shop
*Weighing scales, preferably digital, mine are made by Salter
*Strong white bread flour – please read my page about flour 
*Filtered or boiled & cooled water
*Salt, any granular salt is good
*Large mixing bowl, mine are 23cm diameter and 9cm deep, find the exact ones I use here
*Shower cap or clean plastic bag
*Rice flour, this can be easily found in Asian food shops, or you can grind your own uncooked rice to a fine flour
*500g banneton, 8″ or 22cm diameter for round loaves, and 28cm long for oval loaves. This is a cane or wood pulp proving basket that gives the dough it's shape and concentric lines. If you don't have a banneton, you can line a bowl with a clean, lint free tea towel, make sure you flour it well, and use that to prove the dough.
To prepare: when you first get a new banneton, spray the inside with water, pour in some rice flour and tap tap flour all around the inside of it, moving the banneton around to move the flour. Then let it dry, creating a dried layer of flour inside the banneton. You will still need to add extra flour every time you use it but this gives you a good non stick base. If you use a brotform banneton, just sprinkle some rice flour in and smooth it round the inside.
NOTE: I've been using brotform bannetons more and more and really like them, the dough tips out of them very cleanly and they produce a lovely shape. They do not need to be pre prepared; when you want to use them, just sprinkle in some rice flour, brush it around, and put the dough in. I use either this round size or this oval one
*Bread lame, you can find specially designed bread lames in my shop
*Oven proof pan with a lid, my personal choice is 26cm diameter round or 30cm oval enamel roasting pans with lids, mine are made by Falcon. I also have 20cm round small pans for smaller loaves, they are not a huge necessity, but they are very cute! Cast iron is not necessary
*Good quality parchment baking paper (not waxed or greaseproof paper, it will stick to your loaves)
*Oven gloves
*Cooling rack
*A good bread knife – I highly recommend an Appalachian Bow Saw, mine is handmade by an amazing artisan product called The Garlic Tun
Contact me for any further recommendations or details of the products that I use or visit my shop to find where to buy them