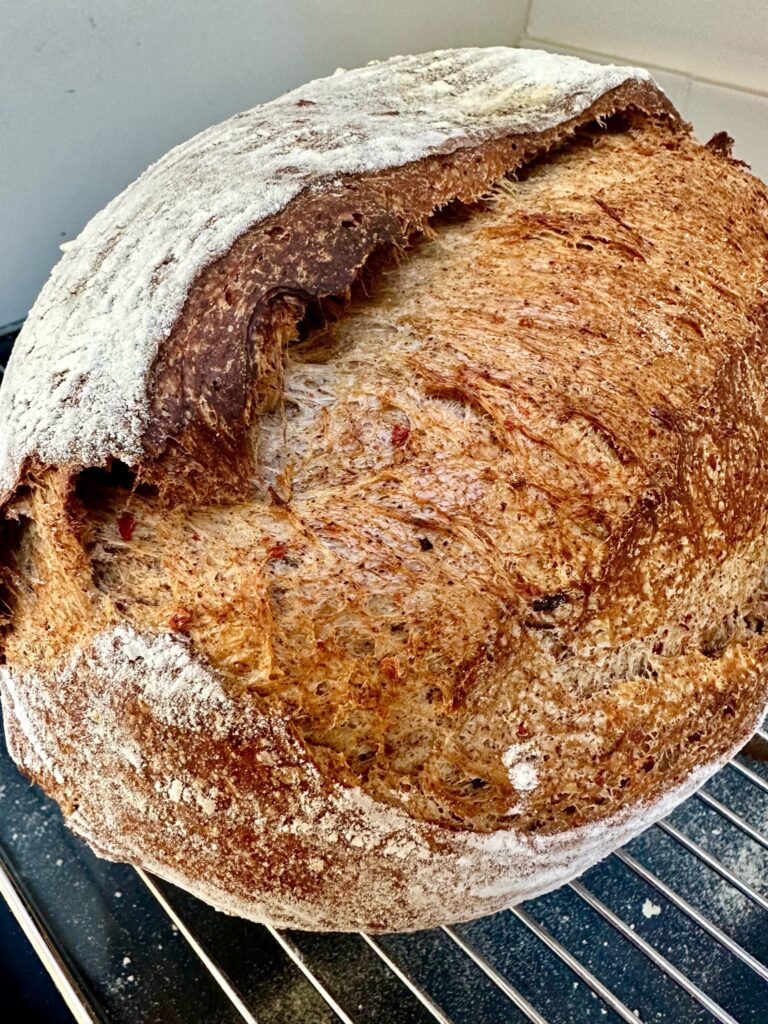 Let me tell you the story of this huge and beautiful loaf…
For this dough I used my 'same day' process as I planned to make and bake the dough within the same day. That meant I used 100g starter instead of my usual 50g, (see ingredients details below) and I mixed the dough up mid morning. I left it in my kitchen to do it's thing, when really I should have put it in a warm space as per my same day process in my books, but I didn't, I left it on the counter.
As it was cold, as the day went on the dough didn't really do much, so I took a risk and left it out all night in addition to the time it had on the counter all day. It was so cold I decided it was worth a go…and luckily, it worked! This is what I woke up to…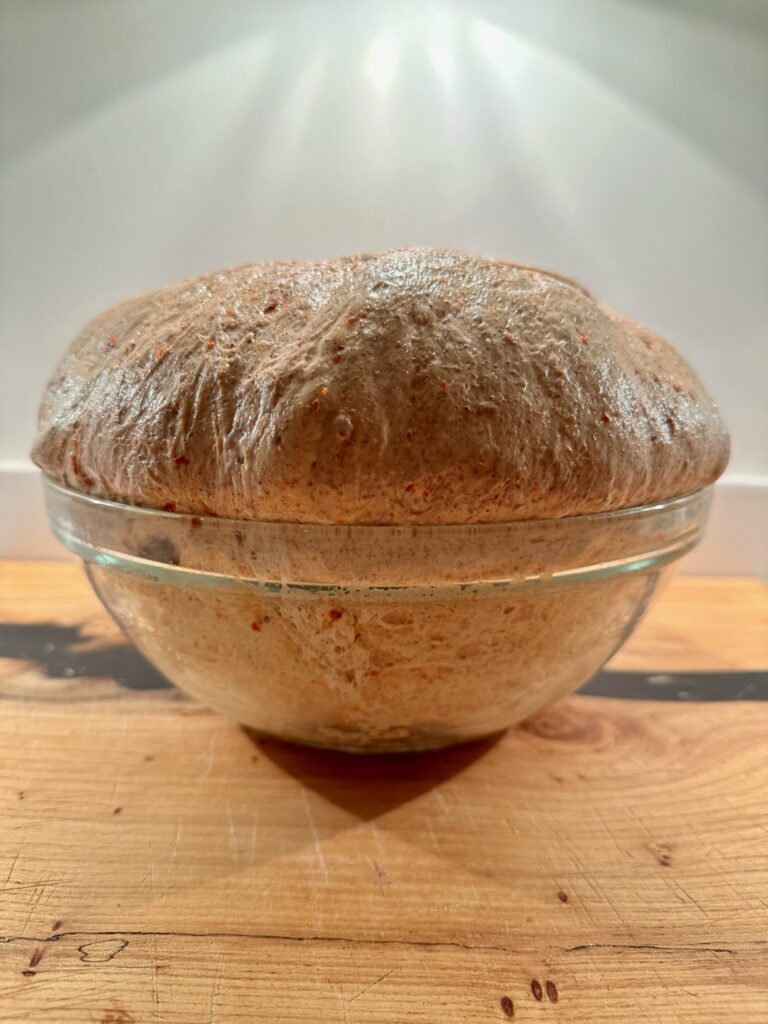 A HUGE beautiful dough! And a beautifully structured dough too.
Due to the cold weather this dough had proved for around 18 hours in total and remained perfectly intact and ready to bake into a great loaf. The chilli give it a nice hit of heat and the chocolate adds a richness and brings out the chilli flavour nicely.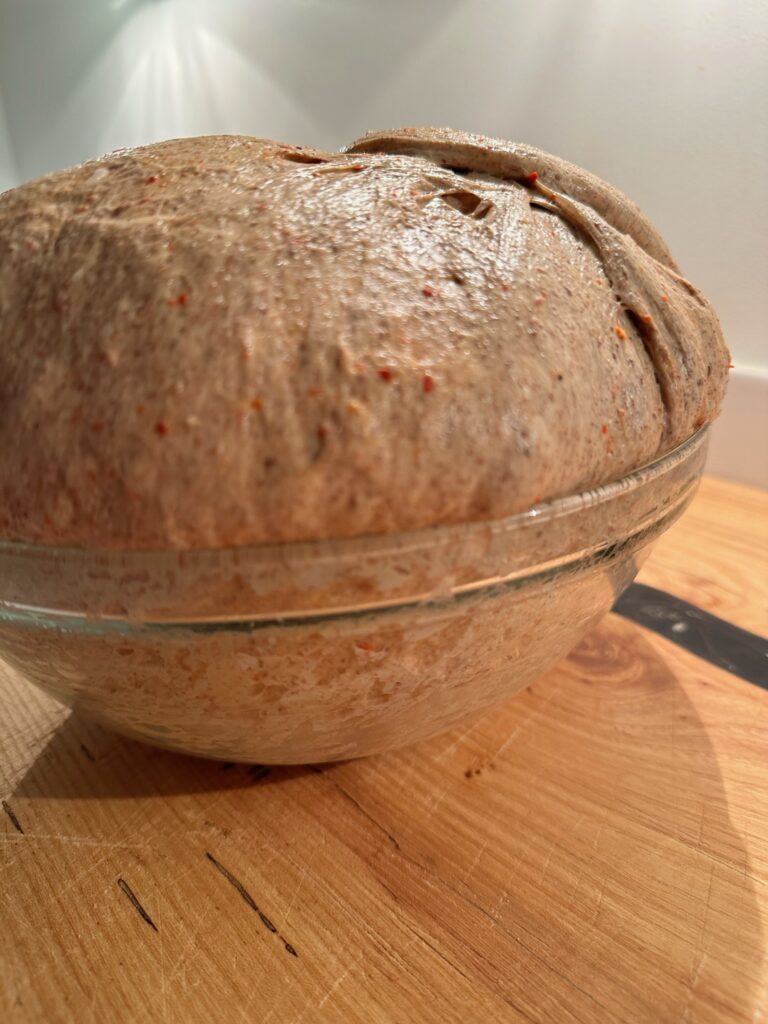 NOTE: Below are the ingredients I used, the mixture of the sugars in the chocolate and the oat milk, the added starter and the chilli all added to produce this beautiful dough which baked into such a big loaf it hit the top of my pan, as you can see by the slight dip in the top of the loaf in the first photo.
I wouldn't necessarily recommend using this much starter typically unless you can watch the dough or manage the time and temperature. If I make this again I will use my usual 50g starter and my usual timings.
Ingredients
100g starter/50g starter
350g oat milk/400g oat milk (or milk of your choice)
500g strong white bread flour
50g grated/flakes 80% dark chocolate (use your own choice of chocolate)
30g pul biber/Aleppo chilli flakes (these are quite mild, and gives the loaf a nice heat, if you want more of a kick, use a stronger ground chilli powder/chilli flakes)
Salt to taste
Method
Follow my master recipe or use the same day process in either of my books.
Enjoy!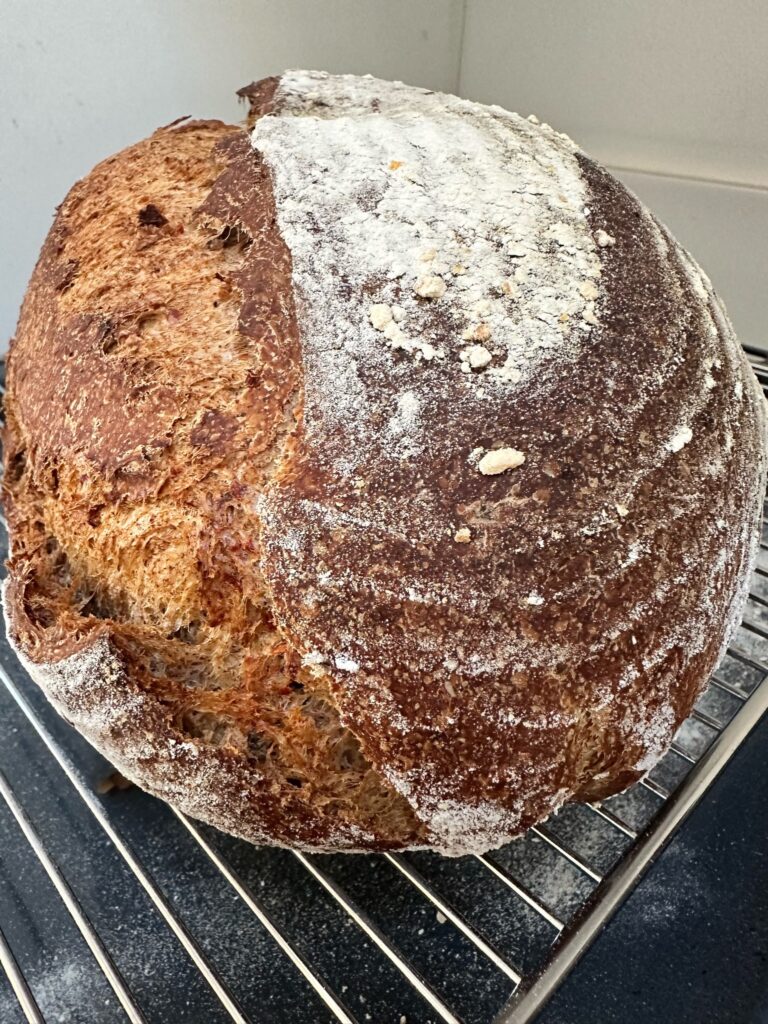 To answer the questions that came up when I shared this dough: this dough is not over proved. If it was over it would have collapsed and been bubbly and hard to handle; this was a perfectly proved well structured dough.