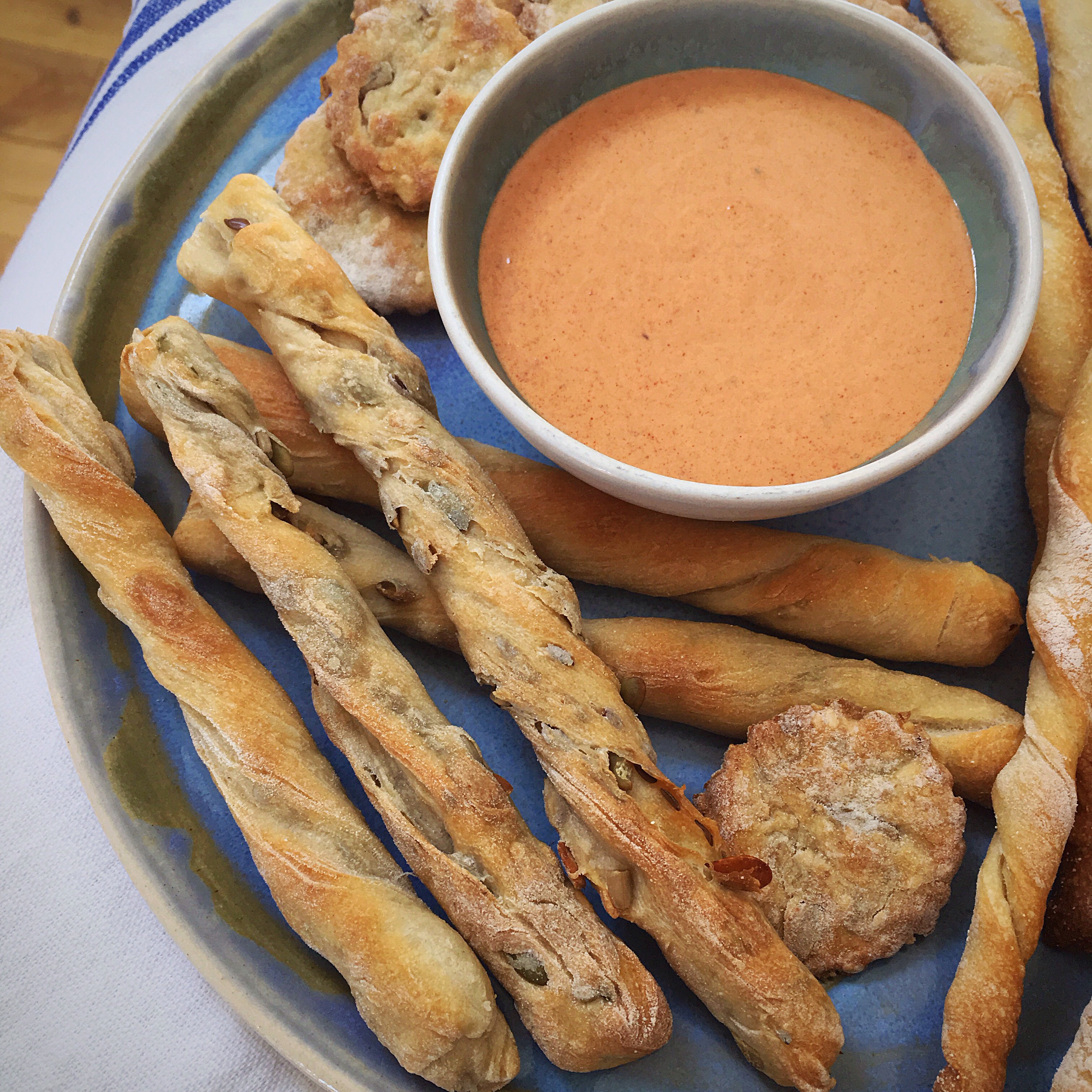 Following on from the sourdough crackers, this time I bring you the sourdough breadsticks..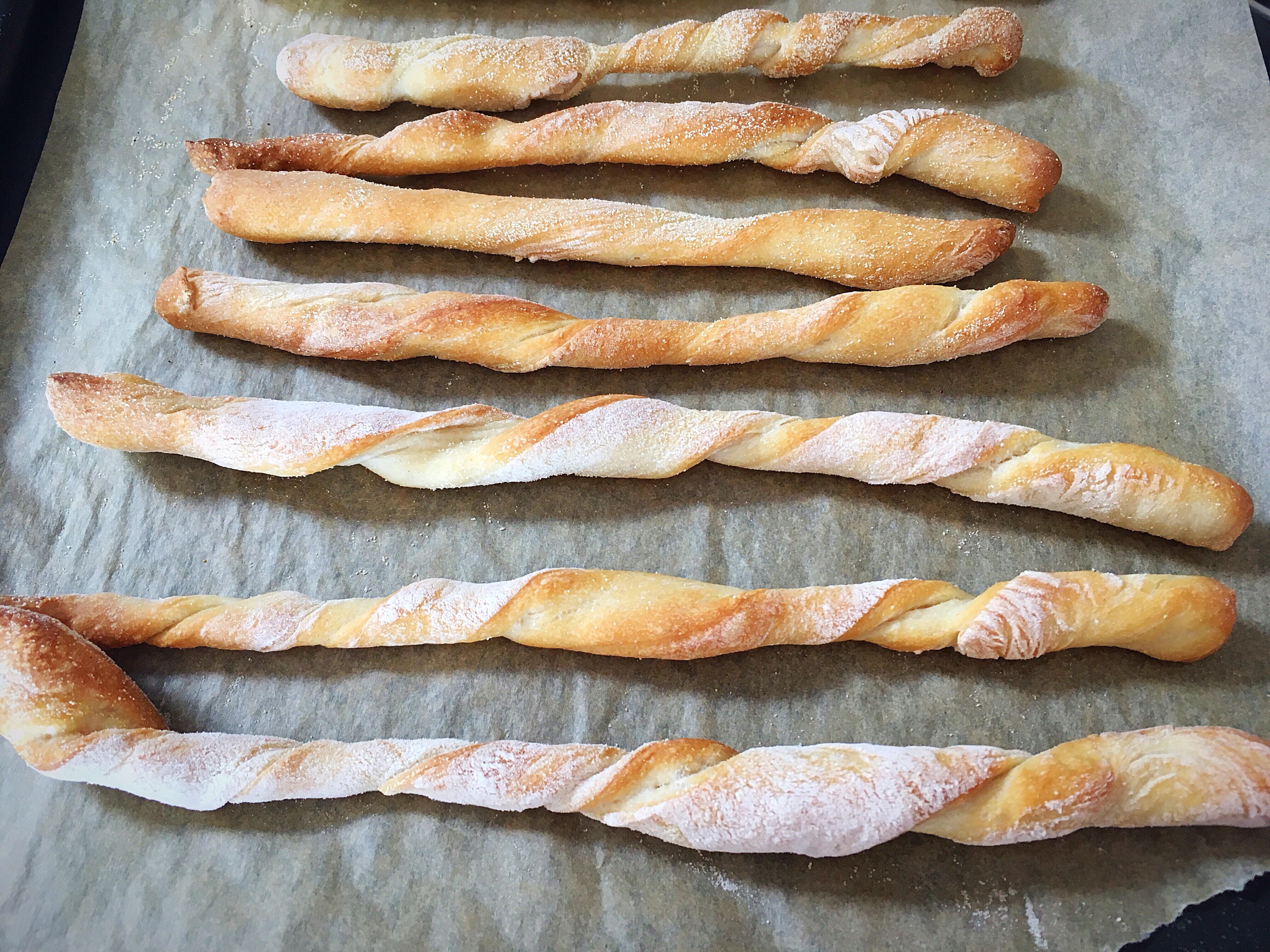 These also worked really nicely, and even 3 days on from baking, still retained their snap!
As you can see, my shaping isn't great, or even, but they taste good, so who cares?!
I made some of them unadulterated, as above, and got creative with the others, below, and added some toasted pumpkin, sunflower and linseeds. These were therefore thicker, and less crisp, but my son preferred them for the flavour the toasted seeds added..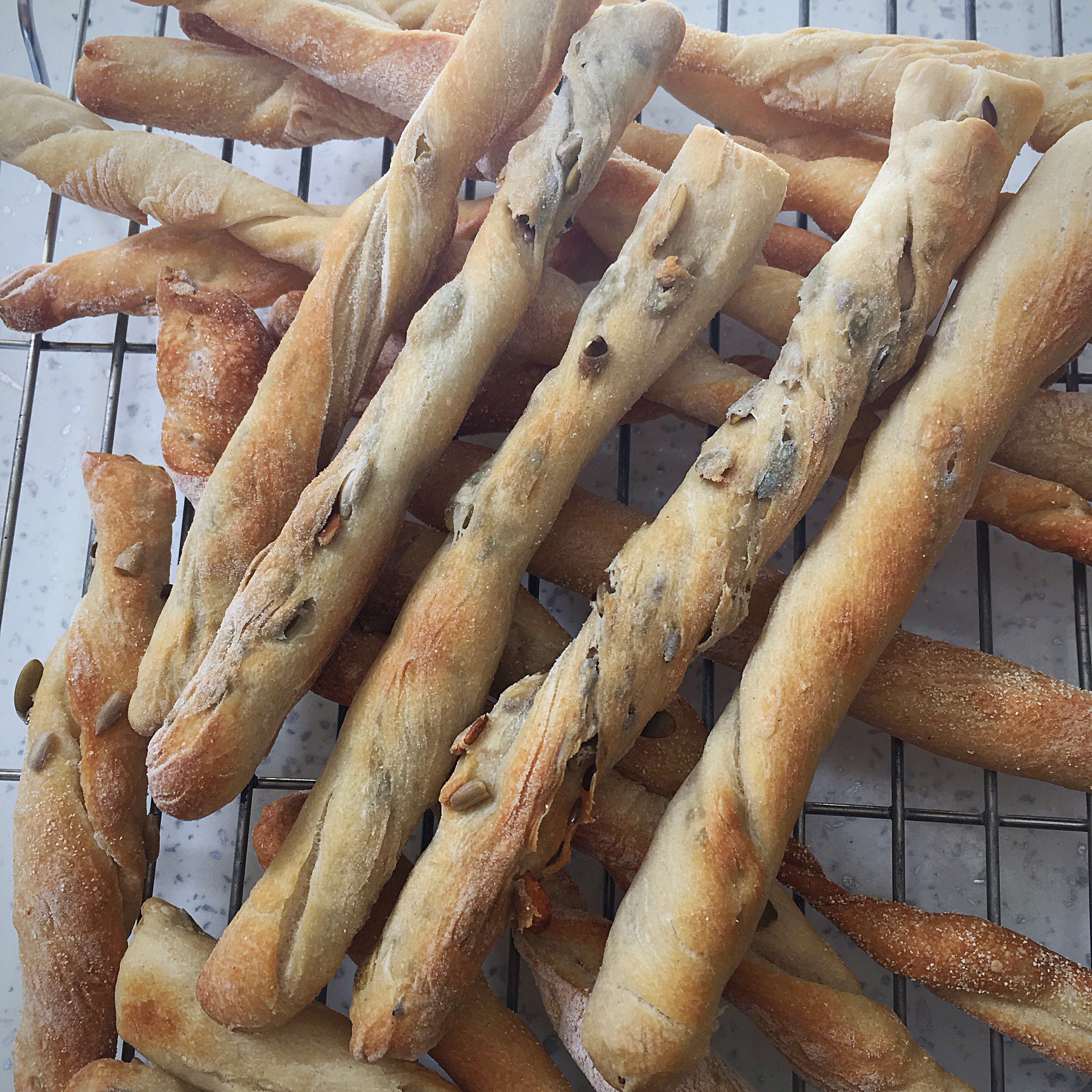 NOTE: The dough for these can be prepared then rested in the fridge for a few days until you're ready to bake them, or used immediately.
Ingredients
250g strong white bread flour
100g water
60g active bubbly starter
1tbsp olive oil
1/2tsp salt
Ground semolina (I used coarse semolina) to sprinkle on the counter
Seeds or other additions of your choice
Method
Mix the water, starter and olive oil together well, then add the flour and salt.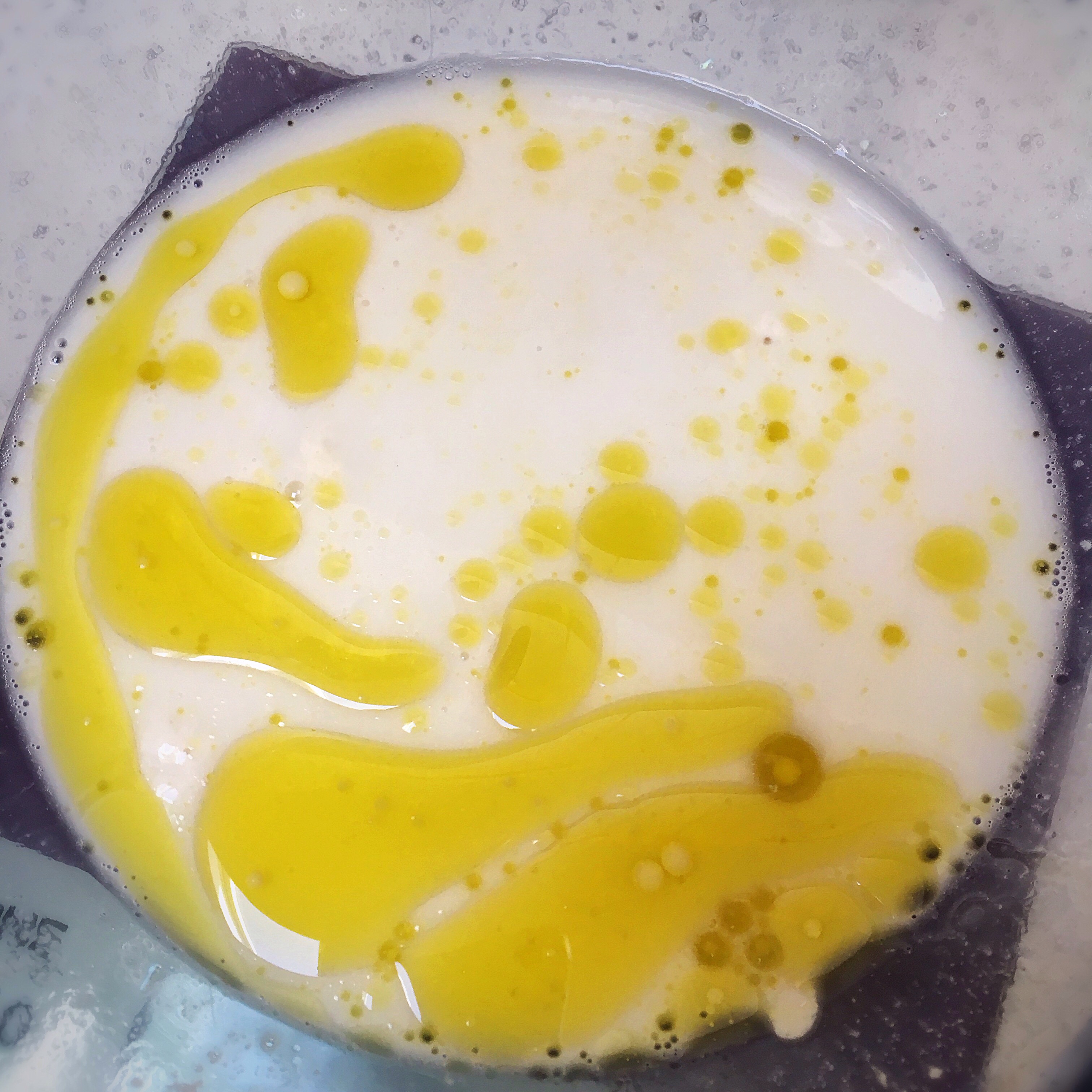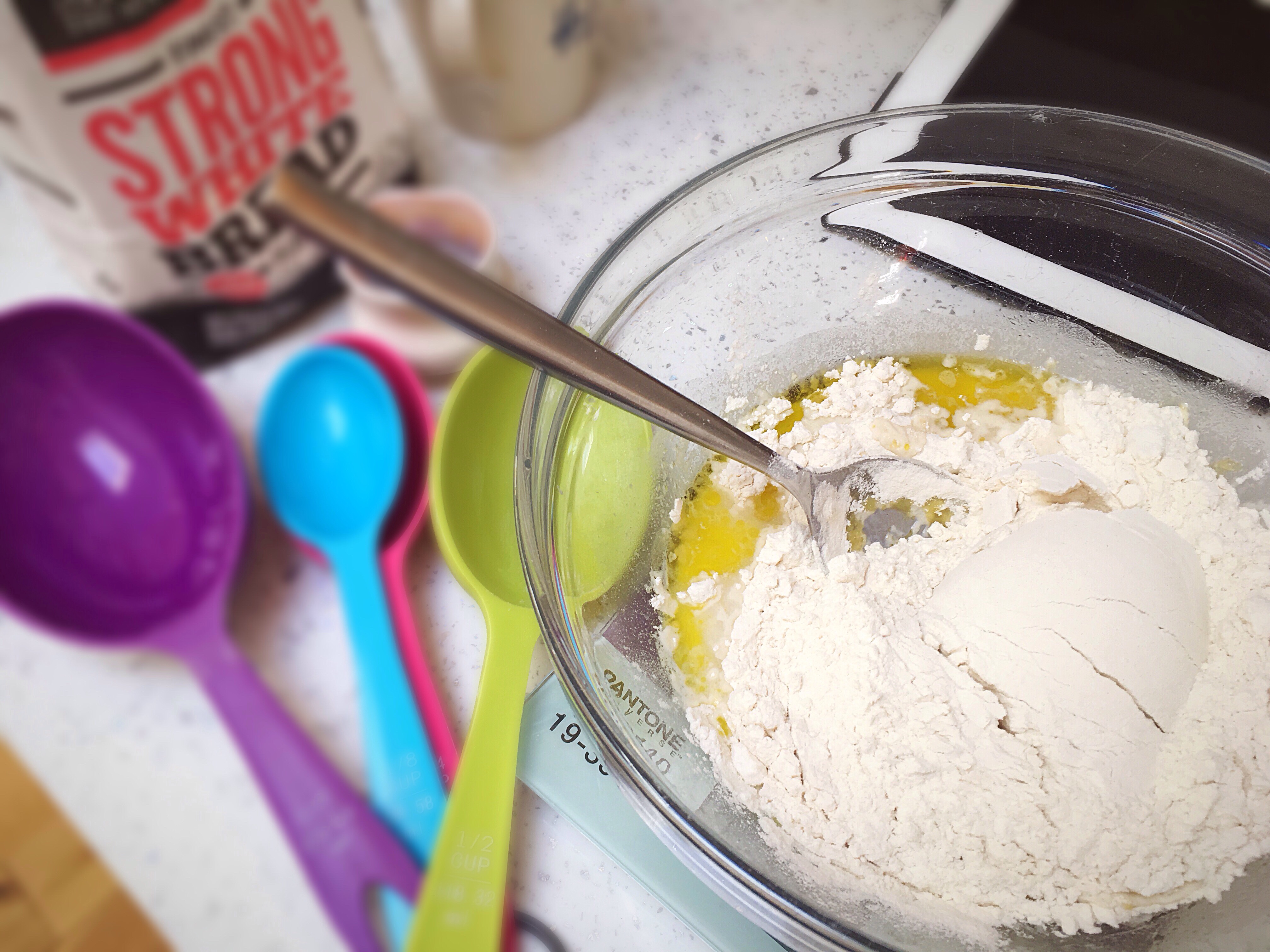 Bring it together as well as you can, it will be very stiff.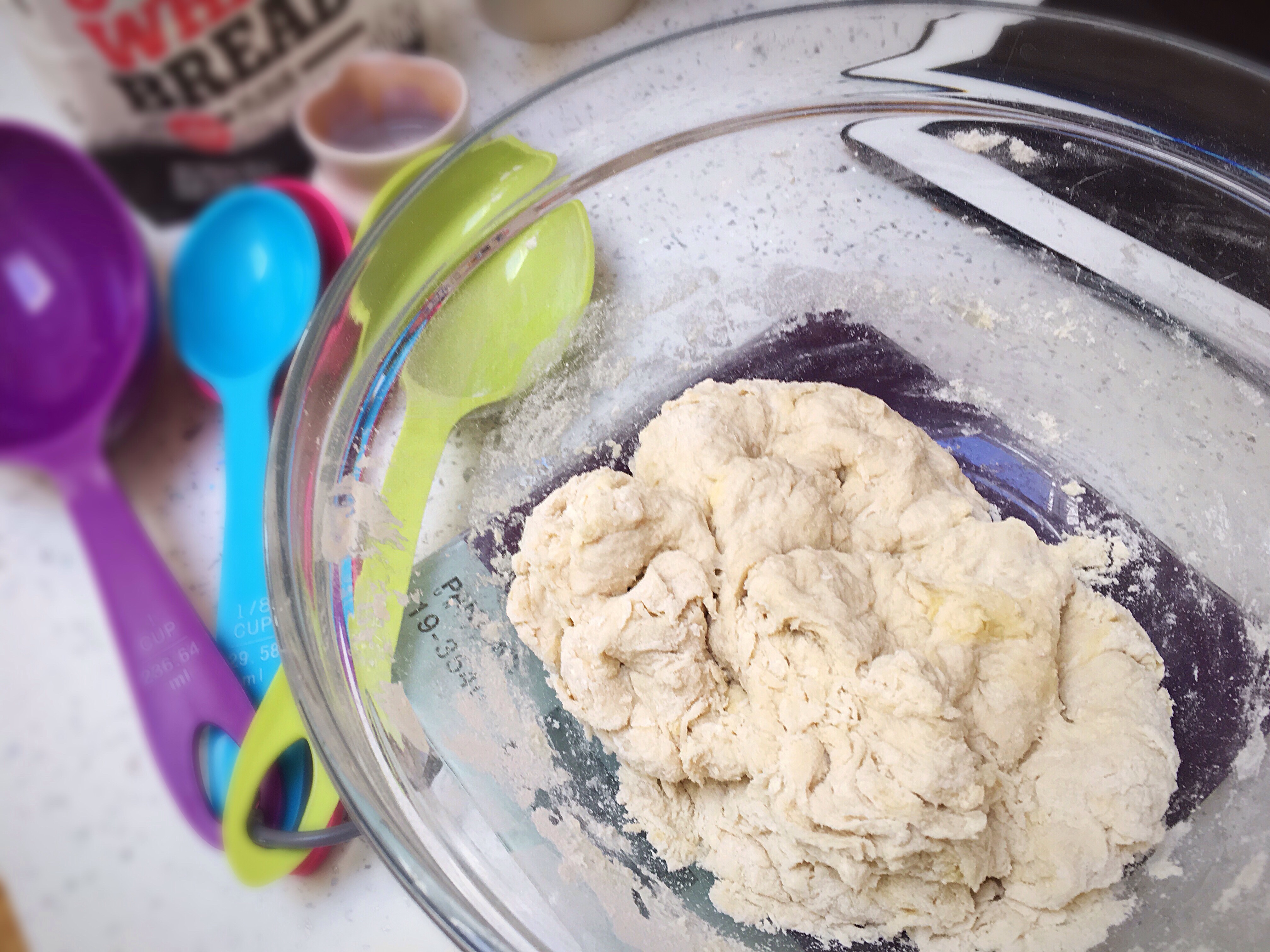 Cover with a shower cap or plastic bag, and leave for half an hour.
After the half an hour, perform a set of pulls and folds in the bowl, cover again and leave for another half an hour.
Repeat this another 2 times.
You can now either cover and refrigerate your dough for later use; or cover it again and allow it to rise for 1.5-2 hours.
*if you choose to refrigerate and use later, allow the dough to come up to room temperature for a good hour or more before using it
To make the breadsticks, cover your work surface with some flour, decant the dough onto the surface and spread it to a rectangle with your fingers. It will constantly want to pull back.
Cover it with cling film and leave for 5-10 minutes to settle then spread it out again. Try and even out the thickness across all of the dough to about 5mm.
(This is not particularly easy, my dough was very uneven!)
Prepare a baking sheet (you may need 2 large trays) by laying a piece of baking parchment paper across it.
Sprinkle some semolina on your work surface alongside your dough/tray.
Use a sharp knife or pizza cutter to słice the dough into 1cm strips.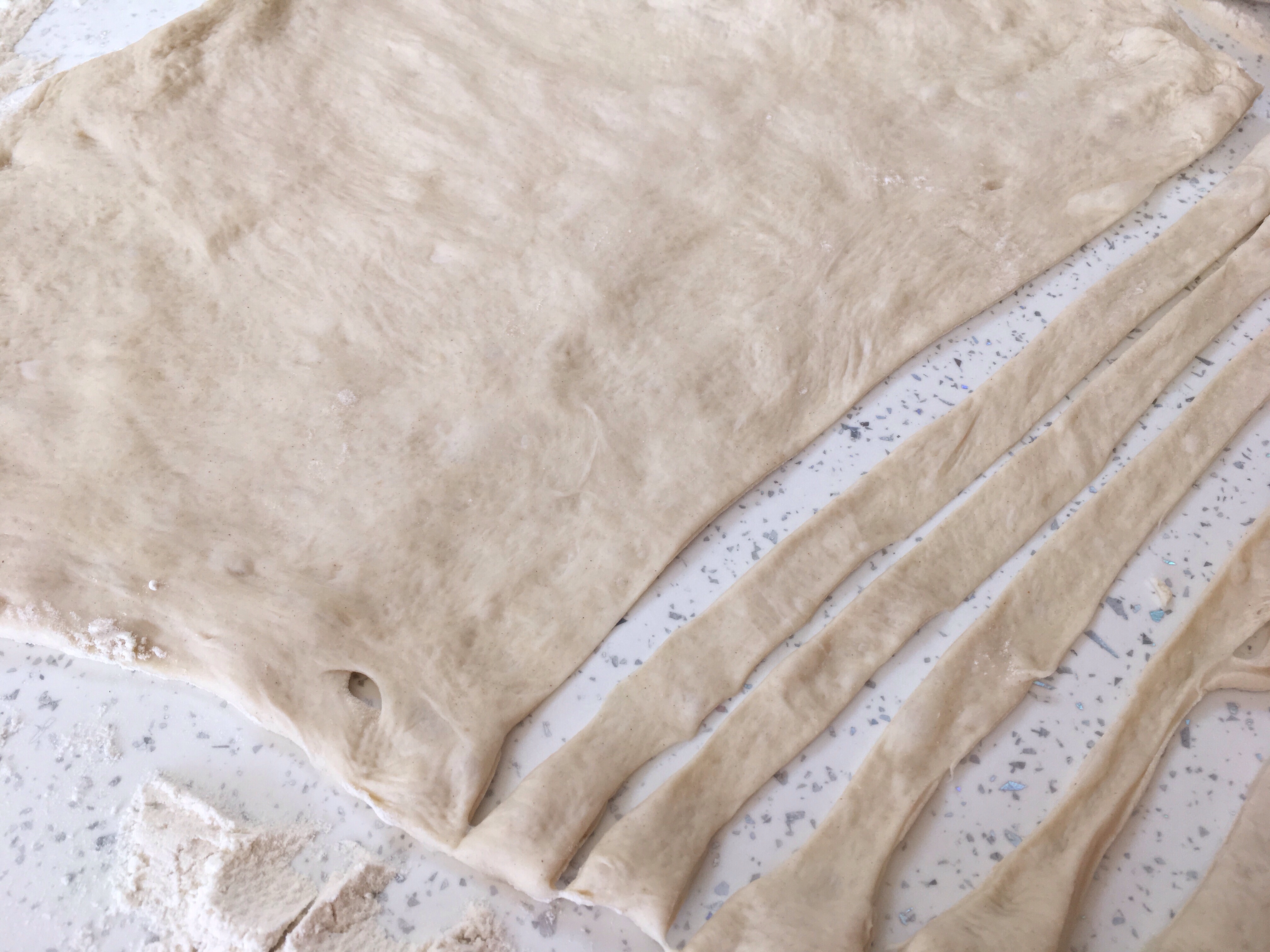 Roll them in the semolina then place on the lined baking tray.
Because my dough was too thin in the middle and thick at the edges I made twists with some of mine.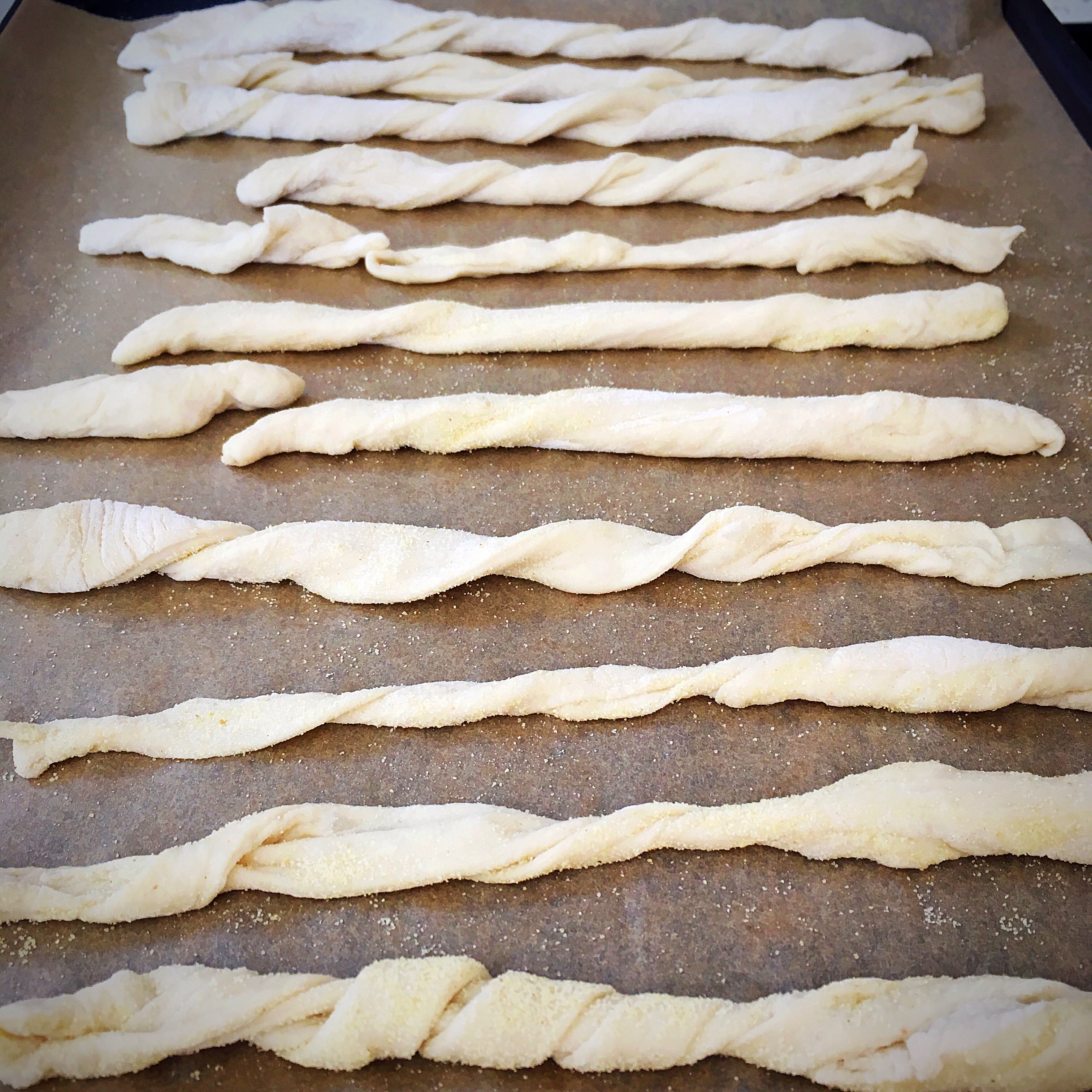 Artist licence!!
At this point you can try wrapping some seeds or spices or whatever you fancy into a few.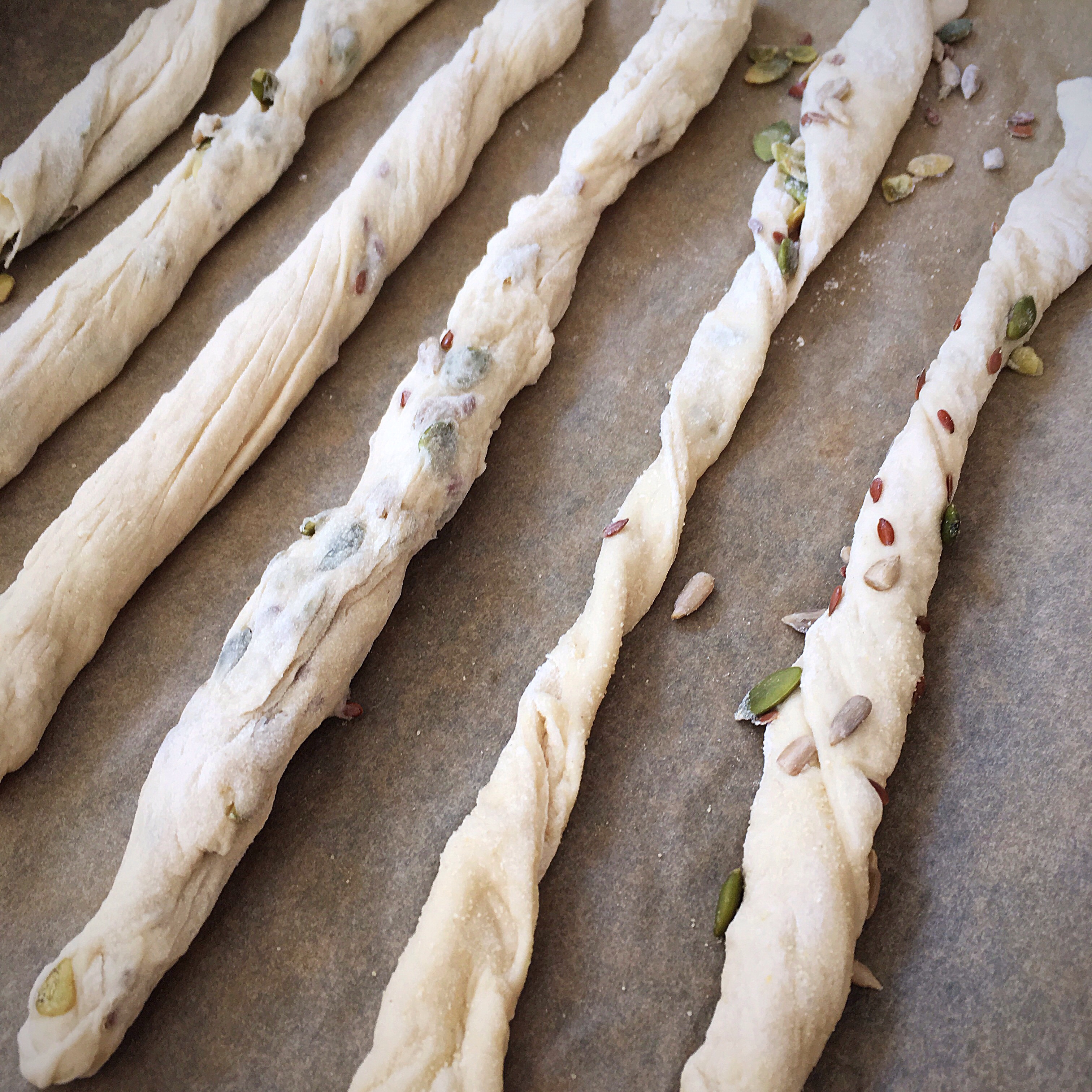 Once they're all rolled or twisted and laid on the tray, cover the tray with a clean plastic bag or cling film and leave them to rise for half an hour whilst you heat the oven.
Preheat the oven to 230C fan.
Boil some water, pour it into a pan or oven proof bowl, and add it to the bottom of the oven to create steam.
After half an hour, turn the oven down to 190C fan.
Bake the breadsticks for 15 minutes, remove and cool on a rack.
*my oven has a hot spot so I turned the tray round half way through the bake.
*if the breadsticks are already looking dark at 13 or 14 minutes, use your judgement and remove the tray from the oven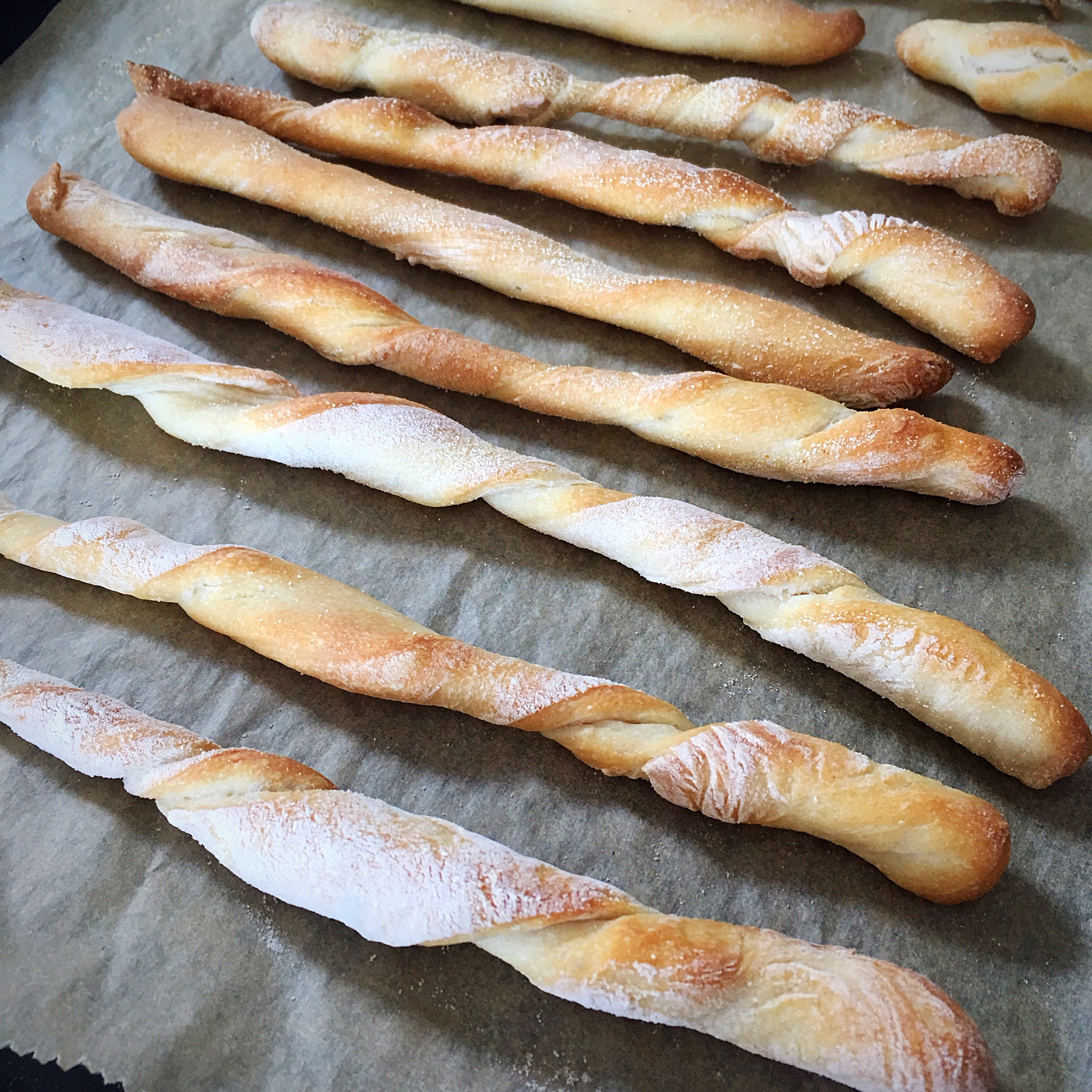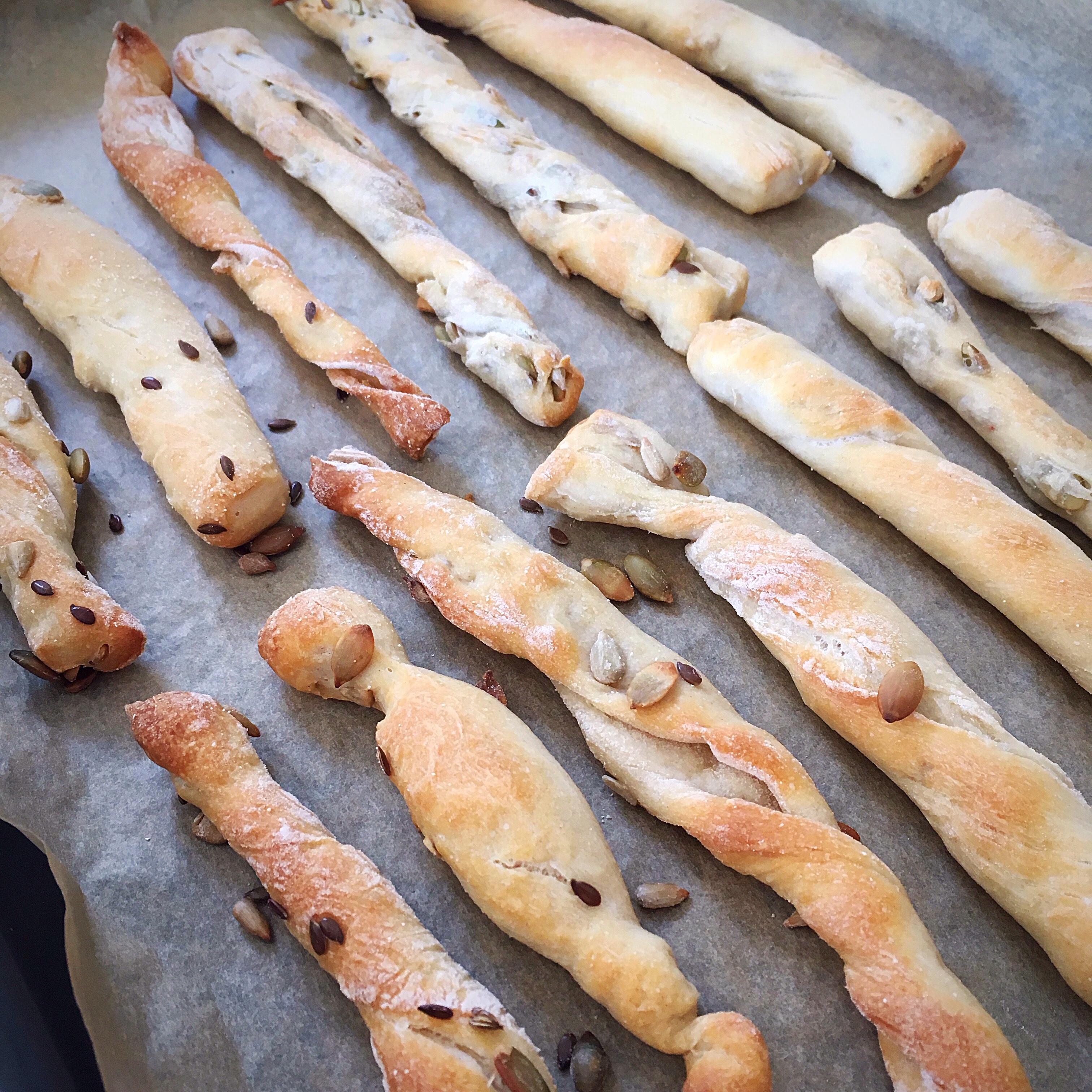 Enjoy!!!
To store, keep them in an airtight container, I prefer a tin lined with baking paper rather than a plastic box