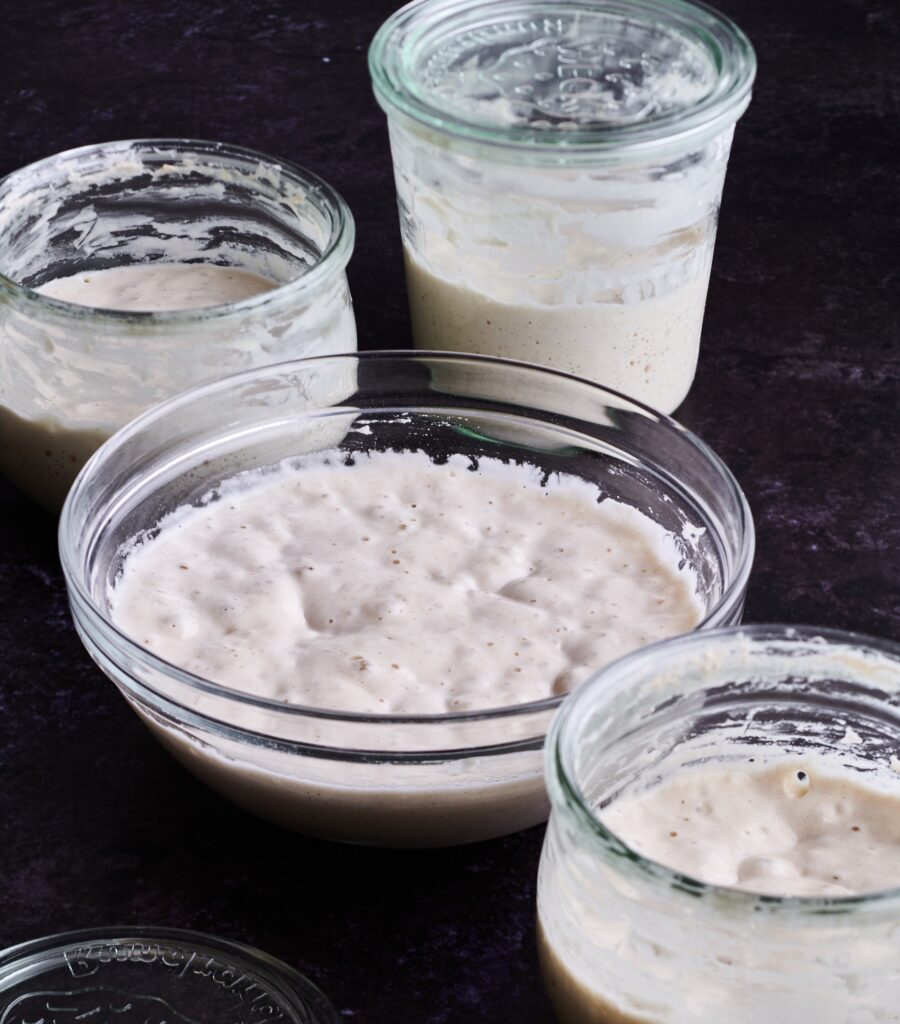 It's magic, it's joy, it's a bowl of happiness, excitement and possibility, it's our love child, it makes us smile every time we use it…it's all those things, and I truly love mine, but in reality…
🌟🌟 In basic terms: its our raising agent, and it's what gives sourdough its texture and flavour. 🌟🌟
The key difference between a starter and other bread raising agents is that starter is in liquid form and lives and lasts forever, as opposed to other raising agents, such as commercially sold yeast or baking powder, which are in dried form and can be added straight from a package.
And that's it, it truly is as simple as that, as scary as it can sometimes seem. I know that the idea of a 'living' thing that we keep forever can worry people, there's that fear about keeping it alive, but I promise, they're really hard to actually kill! It's far easier to keep a starter alive than wiping it out – unless you mistakenly cook it of course, which has been done, or it gets mouldy.
🌟 Flour and water, that's all it is, flour, water and time. My top tips to make and to keep your starter in good condition are:
🌟 Use good flour. You can use any wheat flour to make a starter, as a learner I would highly recommend using strong white bread flour or wholewheat/wholemeal flour. And choose the best quality that you can, it does make a difference and is worth the investment in your starter.
In the UK, I prefer this strong white bread flour for my starter, or this wholemeal flour.
In the US, I recommend King Arthur Bread flour.
For other countries, check out my flour page.
🌟 Water. In most places tap water is fine, but if you're not sure, try filtered water, or boiling and cooling some to use.
🌟 Use scales. Weighing your flour and water makes a huge difference to its strength.
🌟 Keep it small. I only ever use small quantities for making and maintaining my starter. This saves on waste, and keeps it lean and healthy.
🌟 Give it time. Starters don't work to a clock, they will be ready when they're ready. There are some ways that you can encourage it along, but patience is key.
🌟 Be consistent. When you find what works for you, stick with it.
🌟🌟🌟 And if you're new, please please don't read too much. You can easily get overwhelmed with a flood of information. Choose a single source and stick with it whilst you learn how sourdough works.
For more details and all of the steps for making and maintaining a starter, you can find everything you need right here.
🌟🌟 Let me know if you need me 🌟🌟