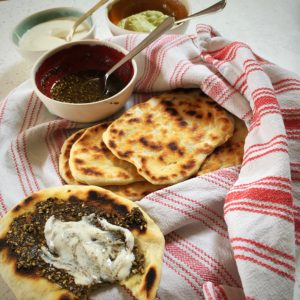 I had some bubbly active starter readily available recently, and someone on Facebook mentioned sourdough naan breads, and that was that…I decided to see what I could create…luckily I took some notes…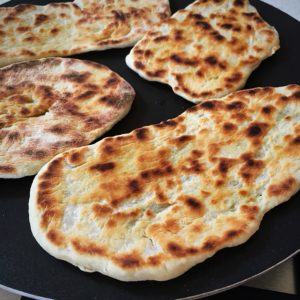 Makes 4 small breads
Ingredients
50g active sourdough starter
100g natural yoghurt
150g plain/all purpose flour
20g olive oil
1/2tsp salt
Optional: consider adding some kalonji (black onions seeds) for a lovely extra flavour and finish, or leave unadulterated and eat with any choice of meal
Method
Mix everything together well, knead it briefly then cover and set aside. Let it prove for an hour or so.
Next, split the dough into 4, make the portions into balls, flatten and on a floured surface, roll them out into rounds about 5mm thick – my rounds were very very rough as you can see!
Heat a tawa or large wide pan over a medium heat. Place the breads into the dry pan and cook for several minutes until the surface starts to brown in places.
Turn the breads, sprinkle the surface with olive oil to keep it moist, and cook the underside until cooked through.
Once cooked, stack the breads onto a plate lined with a tea towel and wrap them to keep them warm.
Eat at will!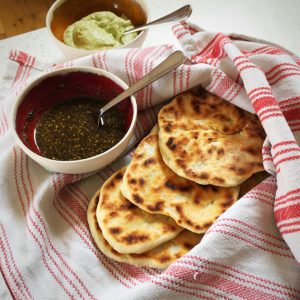 I served mine with some za'atar mixed with olive oil; some tahini, buttermilk and lemon juice dressing; and a dip made of chickpeas and spinach cooked with green harissa, cooled and blended with tahini, lemon juice and water.
A very nice dinner indeed 🙂
Have a great week…