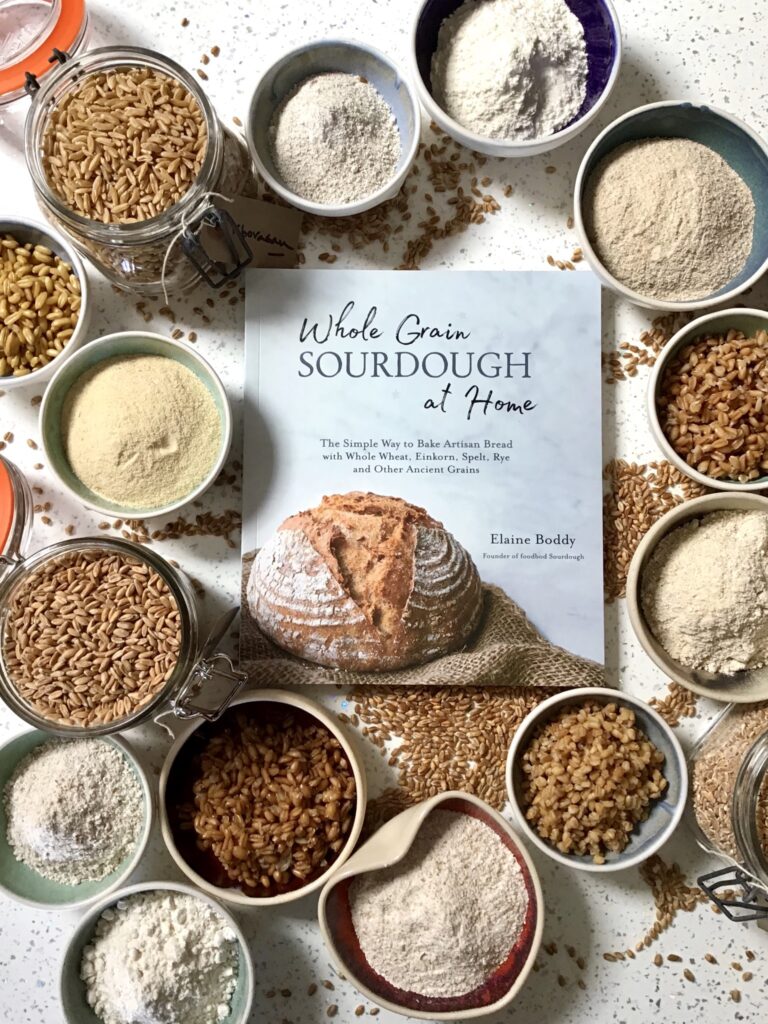 The book includes everything you need to know to be able to make sourdough from scratch, plus my master recipe in full detail, with lots of additional tips; all of my hints and tips and FAQs in one place; plus over 60 recipes using whole grain and ancient grain flours.

It is available for immediate delivery all over the world, there's lots of links listed below which I hope is useful…happy baking!
USA: Amazon
USA: Barnes and Noble
USA: Target
UK: Eco Baker UK (signed by me!)
UK: Blackwells
UK: Amazon
UK: Hive
Canada: Amazon
Canada: Indigo
Australia: Everything Sourdough
Australia: Amazon
Japan: Amazon
India: Amazon
Mexico: Amazon
France: Amazon
Spain: Amazon
Netherlands: Amazon
Switzerland: Orell Fuessli
Sweden: Bokus
UAE: Amazon
Worldwide delivery available from Fishpond and The Book Depository
Supporting independent bookshops Bookshop.org
Reviews:
There's more nonsense talked about sourdough than any other foodie subject – so it's not surprising many cooks are put off, thinking it's complicated, or time-consuming, or that they are signing up to some eternal commitment. If you're interested in sourdough, this is the one book you need. Elaine has a gift for explaining things in plain English, showing you what to expect and organising recipes so that they fit in with your life, rather than the other way round. I defy anyone not to produce a decent sourdough using her master recipe, and once you've done that, Elaine has done all the experimenting so you can get creative with different grains and techniques. Bread bakers everywhere – here's the book you've been waiting for.
Orlando Murrin
President, Guild of Food Writers
Elaine has developed a unique and trusted approach to sourdough baking that utilizes uncomplicated and friendly methods to deliver professional results. She has a special gift for motivating people to bake bread. Her passion and hands-on teaching techniques have attracted both bakers and non-bakers from all walks of life. Elaine is brilliant, spirited, and witty. And in her book, you will learn to bake artisanal sourdough like a pro without any unnecessary jargon. Her recipes are simple to follow, foolproof, and utterly delicious. If you have been interested in sourdough but intimidated to take the leap, let this be where your journey begins. This is a book that belongs in every baker's kitchen arsenal.
Hanady Nabut, founder and author of hanadykitchen.com
Wholegrain Sourdough at Home is a very inspiring book, full of sourdough recipes that are for both health and our pleasure. Demystifying the art of sourdough baking, Elaine cleverly guides us to explore beyond the delicious white loaf to embrace a wide variety of whole and ancient grains.
With her foolproof, easy and remarkably straightforward method, baking bread has become my kitchen meditation. I'm always so pleased to provide my eating well with cancer classes with homemade sourdough, and introduce others to Elaine's reassuringly simple method. This book will become the only bread book you will want to use.
Kellie Anderson, MSc.
Cancer health educator and author at kelliesfoodtoglow.com
I am absolutely thrilled to write about Elaine's first cookbook, in fact I cannot recommend it highly enough. I've been following her blog and baking adventures for years, and I can tell you Elaine completely demystifies the process of sourdough baking, making it doable even if you are a complete beginner who might be afraid of any recipe involving yeast. If the thought of keeping a sourdough starter alive seems downright scary to you, you need this book. If you are a seasoned bread baker, you need this book. Most bread baking cookbooks are full of rigid rules, from the type of flour you need to complicated calculations and timings for success. Elaine follows one personal rule, and one only: keep it simple. And it works. From her master formula she expanded variations that use wholegrain, alternative flours such as rye and einkorn. Not only she devised ways to eliminate sourdough starter waste, but she also offers a number of creative ways to use it, for instance in scones and crackers.
Elaine turns the process of baking bread into something natural and fun, which is what it should always be. I haven't had a single of her recipes disappoint me, and I look forward to trying the more unusual flour compositions she shared in this must-have book.
Sally Newton
Bewitchingkitchen.com
I think the thing I love most about this book is the way it's come about.
Elaine has dedicated the last few years of her life to her social media pages where she personally answers every single question posed to her about sourdough. That's hundreds of questions, so this book isn't based on what she thinks people should know about sourdough, she knows better than anyone what people actually do want to know. Add this to Elaine's method, which is simple, delicious and works, and you have a recipe for success
Simon Page
Waitrose Cookery School Manager
I have always baked yeasted bread but wanted to learn about sourdough. Elaine's approach is clear, uncomplicated and the results are fantastic time after time. What else I love about the book is the variety of recipes to use my starter with so I don't throw any of mine away.
Elaine's book gave me the confidence to start to explore using ancient grains too in my bread making. I love the flavour of these types of flours but was unsure on how they worked, I have now had some delicious results using these recipes. Her Einkorn ones are my favourite, again never heard of it before discovering Elaine.
Jessica Wooldridge
Waitrose Cookery School Tutor
I first met Elaine on Instagram through the stunning photos of her handmade sourdough. I'm very confident baker and pride myself on being very comfortable with yeast baking, but, I'd never really mastered sourdough.
After chatting with Elaine, she sent me some of her excellent dried sourdough starter. I refreshed my starter according to Elaine's clear and easy instructions, and using her "Master Recipe" my first sourdough loaf was a triumph, as has every loaf been since then….it's safe to say I was hooked!
I've subsequently attended one of Elaine's excellent sourdough courses in her home, and learned so much that I now consider myself to be very accomplished at sourdough baking.
I'm thrilled that Elaine has been commissioned to write this book, as a published author myself, I recognise her passion and, her expertise and creativity will be a boost to the world of sourdough baking, especially in debunking the myth that making sourdough bread is hard.
Karen Burns-Booth
Author of Lavender & Lovage
My relationship and friendship with Elaine started a few years ago – thank you Instagram – and since then I've been sharing her sourdough journey.
As a fellow sourdough enthusiast and lover of all things natural and fermented, I found Elaine's experiments, tips and recipes excellent and so easily tremely helpful and have adopted many of her tips to great effect in my own baking.
A lady with a real passion and a genuine desire to demystify the confusing world of sourdough baking, and make sourdough accessible and do able for everyone, regardless of experience.
She has literally sparked the sourdough flame in thousands of people, as her many followers on IG testify and introduced the very real possibility that anyone can bake sourdough bread!
What I love about Elaine is her desire to understand the whole process, test boundaries, change things up, challenge long held beliefs through her many experiments in her own kitchen. She has such a connection and understanding of her craft and ingredients and such a willingness to share it so that everyone can create nutritious and delicious sourdough.
Elaine is self taught and has learned her craft through trial and error and has simplified the whole process, from start to finish. She knows what works and has tested every aspect of the process, from equipment, ingredients, hydration, fermentation time, temperature, recipes and methods. She removes the fear and inspires you to give it a go. It's not about creating a perfect loaf everytime, it's learning to enjoy the process and your bread, however it turns out.
A Sourdough starter is a living organism and doesn't always play by the rules which makes it fascinating. Elaine's genuine enthusiasm and love for her wonderful starter, aptly named Star, is amazing and encourages you to treat your starter as a living thing.
This book will allow you to understand the process, explained in laymans terms, with step by step instructions, that thousands of people worldwide have used successfully to make sourdough.
Sourdough is simply the best bread you can eat and Elaine is simply the best teacher. Her book will have you confidently baking sourdough in no time.
I would say that learning to make your own sourdough is a life skill well worth acquiring and this book will set you on that path with ease.
One caveat, baking sourdough is extremely addictive so prepare to have your life taken over by this wonderful hobby!
Janice Clyne
Nourished by Nature