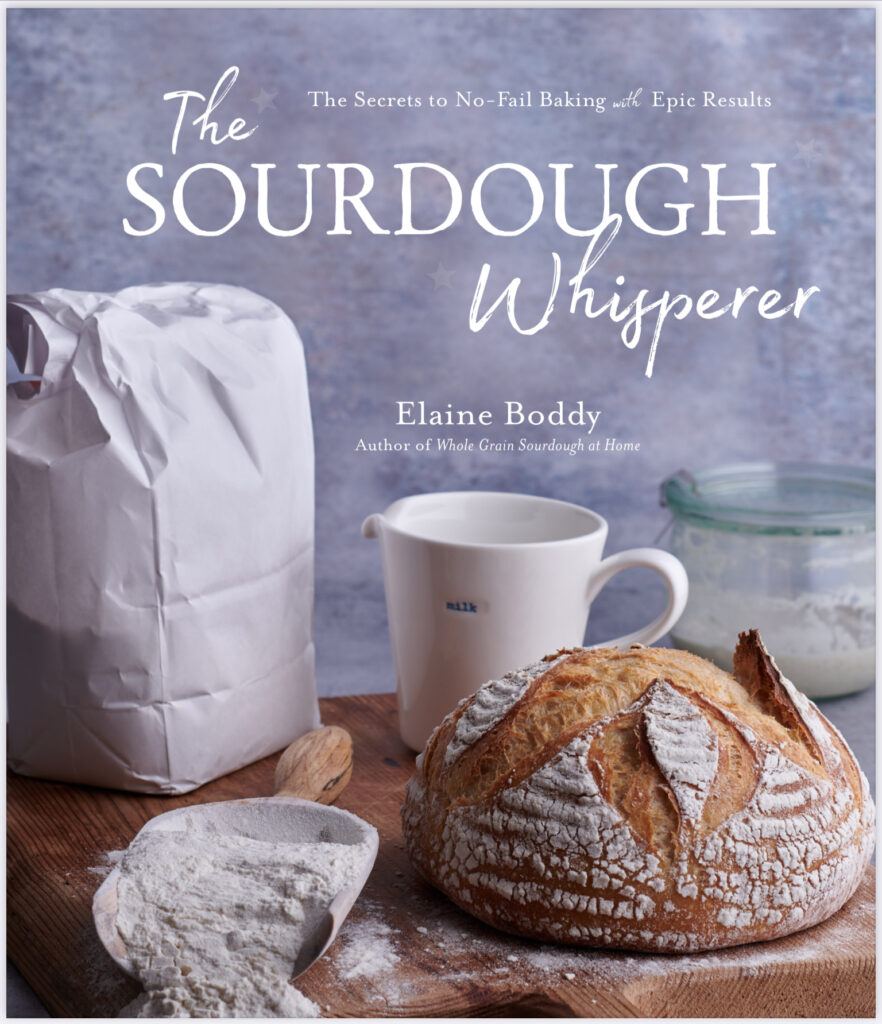 Due to be published in Spring 2022, I am so excited to share news of my upcoming book with you.
Whether you want to begin, continue and/or enhance your sourdough making, you'll find it all here, but the biggest thing you'll discover is how to manage and manipulate your sourdough making so that it works for YOU, in YOUR home, to YOUR timings. You'll discover how YOU can be fully in control of every aspect of the process, not the other way round!
The book is packed with everything I could physically download from my sourdough brain onto the page. You'll find hints and tips that I haven't shared anywhere else, you'll find new timetables, new ideas, lots of step by step photos, PLUS 40 recipes all ready for you to enjoy. I cannot wait to see what you think, I really hope you will all like it xx
Below are links from sites all over the world, in no particular order, if you find any others, please let me know and add it too…thank you.
"Elaine is truly The Sourdough Whisperer. She is always there holding your hand through each step. Trust her and go with it. The results are beautiful and take away the fear of making sourdough. A must have book for everyone."
Joudie Kalla, author of 'Palestine on a Plate' and 'Baladi'
🌟 please note that publication and delivery dates may be subject change, which is very sadly out of my control 🌟
USA: Amazon
USA: Barnes and Noble
UK: Eco Baker UK
UK: Amazon
Canada: Amazon
Australia: Amazon
UAE: Amazon
France: Amazon
Spain: Amazon
India: Amazon
Mexico: Amazon
Japan: Amazon
Reviews:
"Elaine has a sourdough superpower… Her knowledge is seemingly inexhaustible and she is so generous in sharing that knowledge. Any book she writes on the subject of sourdough is one to fast-track on to your bookshelf."
Karen Barnes, Editor, delicious. magazine
"It is such a pleasure to write about Elaine Boddy's second cookbook, The Sourdough Whisperer… First of all, I love the title and find it perfect to describe her. In this cookbook, Elaine goes back to basics. You will work with easily accessible flours, and explore all possibilities for bread baking using your home-made starter. Once again, Elaine reaches her goal of simplifying all steps, refusing to follow the rigid path that most cookbooks insist on. Can you bake bread in different shapes? Can you use a starter that has been sitting for days and seems quite dormant? Can you adapt all timings to suit your schedule, no matter how busy and hectic it might be? Thanks to Elaine, the answer to all those questions is a very enthusiastic YES, and as you read her book and follow her recipes you will realize that the key is to keep it all simple. You won't have to spend a lot of time calculating hydration levels, you won't have to deal with sourdough discard, you won't have to heat your oven for an hour before baking your bread. All the rigid rules are gone. Thanks to The Sourdough Whisperer, a much more relaxed and pleasant stroll through the bread baking path is waiting for you…"
Sally Newton, food blogger and home baker, bewitchingkitchen.com
"Sourdough baking is approachable, accessible, and achievable thanks to this thoughtful guide. Elaine has a true talent for working with sourdough and a passion for sharing her knowledge with others. The Sourdough Whisperer combines these gifts into a must-have resource for anyone interested in sourdough baking, as it demystifies the science of working with starters, clarifies the dough proving process, and inspires bakers to further develop their baking skills. Elaine's wisdom and her recipes have helped me, personally, to troubleshoot my sourdough challenges and ultimately bake my picture-perfect loaves confidently and with ease."
Angela Ferraro-Fanning, author of The Little Homesteader book series
"Elaine is the sourdough queen. Her second book makes the often seemingly complicated world of sourdough making extremely simple, and gives people the knowledge and confidence to bake skillfully at home. Elaine is also an amazing spice user and it's great to see these two sides of her culinary skills married together as she incorporates spices into some of the recipes in the book."
Sanjay Aggarwal, Spice expert and home baker, Spice Kitchen UK
"Seven times I tried to make a starter and seven 7 times I failed UNTIL I started using Elaine's methods, and I've never looked back since! My starter is bubbly and so full of life and every single loaf is a winner! Anyone who wants to make sourdough, or wants to know more about making sourdough successfully and easily, will love this book."
Cherie Denham @cheriedenhamcooks recipe develop and demonstrator
"Bread baking at home is going through a real renaissance, Elaine is a huge part of that. Her passion for all things sourdough and supporting home bakers in kitchens or any size has been remarkable. She has created some fantastic easy to follow master recipes and simple techniques for beginners and seasoned bakers a like. Elaine's mindset is to make the pleasure of sourdough baking accessible to all. She has been an inspiration to home baking communities across every continent. I know you will enjoy this book."
Bertie Matthews, Managing Director, Matthews Cotswold Flour
"The magic and mystery of sourdough can be so delightful and yet so intimidating all at once. Elaine brings her years of experience and solid common sense approach to the art of sourdough without losing its simple beauty. In this book Elaine teaches aspiring bakers of all levels how to listen to and work with the sourdough process. From step by step creation of the starter to a magnificent loaf of delicious bread at the end. This book will take you on an adventurous journey into the captivating world of sourdough from which you will never want to return. Happy Baking!"
Ulrike Grace Shumborski, sourdough baker & teacher @gracefulsourdough
"Elaine's creativity and expertise will ensure you aren't buying bread ever again. You will learn from one of the best on how to tackle sourdough the most uncomplicated way to make delicious homemade bread. For total beginners that think sourdough is too confusing, and experienced bakers who want to simplify, Elaine's approach just works.
I started out with Elaine's master recipe and my baking was an instant success. A couple years later we are friends and I have a nice little side hustle selling artisan bread. "
Simone Garossino, sourdough micro bakery owner, @ptfbakes
"Before I met Elaine, I had never made a successful loaf of bread. Thanks to her expert advice, the faultless Master Recipe & all her inspiring ideas, sourdough is now a reliable and significant part of my home-baking. I have fitted the simple process of making the dough around my daily routine and I love the flexibility of it and how forgiving the dough can be when necessary. It is a joy to bake sourdough and I cannot wait to read Elaine's latest book for more advice and to try out some of her new recipes."
Whizz Middleton, Mrs. Middleton's Rapeseed Oil
"It might sound ridiculous but I have always been scared of sourdough, fearful of not being able to get it right, worried it was too scientific and upset that I couldn't just 'make it' like so many others seemed to. In lockdown I decided to tackle my nemesis; slowly and gently I researched many different recipes, experimented with lots of expert advice and well tested methods. I just wish I had discovered Elaine and her recipes sooner. I love her reassuring and clear style and regularly dip into her book to try something different or to read her tips when my starter looks sad or my loaves are flatter than usual. Elaine demystifies sourdough and is the perfect friend to have in the kitchen – I really hope we can bake and chat together in real life soon. "
Miranda Gore Browne, author of Bake Me a Cake as Fast as You Can and Biscuit, Finalist on The Great British Bake Off