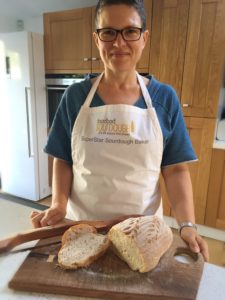 Join me in my home kitchen, in the heart of the countryside in north Milton Keynes, for courses in discovering, making and preparing sourdough, as well as using different flours, and other ways to use sourdough starter.
I have currently two courses available, an introduction to sourdough course for anyone new to sourdough or baking, and perfecting your sourdough for those already familiar with sourdough baking.
These courses can be booked as a single day or as two consecutive days if you'd like to attend both; I can recommend local places to stay and visit.
Milton Keynes is easily accessible via train and motorway; all directions to my property will be provided.
The dates available are on a first come, first served basis; if you would like to discuss the possibility of different dates from those published, please do get in touch.
To book a course, please email me directly to secure the date and pay in advance through the site shop.
Dates are transferable, depending on availability; payments are non refundable.
Gift vouchers for course will be available soon, in the meantime if you'd like to book as a gift for someone else, let me know.
Julia says: "Sue and I really loved visiting and baking with you yesterday. The wonderful clear and organised way you worked and passed on all the useful information was invaluable. It was so good having all the ingredients and bowls ready to hand and working through the various stages. And it was a real bonus to be treated to the absolutely delicious vegetarian lunch you had prepared for us. Very many thanks for a great day! Thank you too for all the instructions, scones, bread, bag AND the starter which we took away with us."
*for more reviews, visit my shop page and see what people have had to say.
Check out the courses available and book your date now! 
Perfecting your sourdough course