It looks like a bowl of bubbly sludge…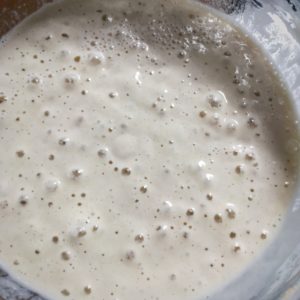 …but this little bowl contains the magic to do this…make stunning dough…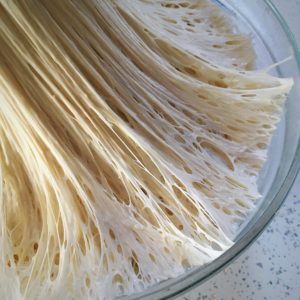 …which then becomes amazing bread…like this…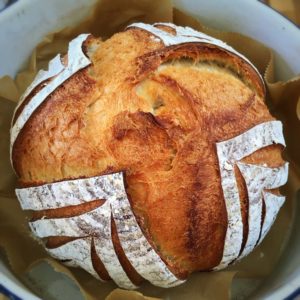 …isn't it amazing?! It's amazes me every time I bake, the sheer power of that tiny portion of bubbly liquid, I love it 🙂 
Starter is the key to successful sourdough; the starter provides the uniqueness of the bread, the rise, the texture, and replaces commercial yeast used in making standard loaves. It's what makes sourdough a healthy choice, and makes it more easily digestible. But most importantly, starter is what gives sourdough the fabulous flavour!
The process of making your own starter is very satisfying and often challenging; successfully making, maintaining and using sourdough starter is the key to great sourdough, but it is a process that takes several days and weeks to fully mature and be useable. Sourdough starter gets stronger with time.
My starter, Star, is many years old, and comes from a mix of dried starter that I was gifted years ago, and starters that I made myself. Star is strong and always ready for action, she is the key to all my loaves.
And so, I decided to dry out lots of my lovely Star and create packets for other people to either create their own starter, or boost a starter they've already got. I know how well Star works and I know that she can work well for you too and bring you great bread.
Noel says: "the starter you sent me is working great. It revived within 24 hours and I made my first boule with it over the weekend. It turned out very good. Excellent oven spring and nice crumb. Your strong starter is certainly better than the one I developed myself…………….thanks again."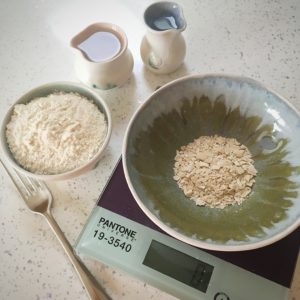 Dried starter seen in the main bowl above
With my dried starter, you can have your own active starter ready to use in 24 hours, and to keep for life, and you get full access to me and any help that I can offer. This website is also full of details for using and looking after your starter and baking great bread, so why not start today and bring some of my superStar into your kitchen…
Available in single or double packs, with free delivery, click here to visit my shop and order your dried starter…
Star has been flying around the world and the country and working hard in new kitchens, she could be working hard in your kitchen too 🙂
She has so far travelled to New Zealand, Texas, India, Canada, USA, Indonesia, Germany, Portugal, France, Dubai, Wales, Scotland and around the UK.
Rebecca says: "I've been trying to make sourdough loaves for nearly 3 years and never managed to keep my starter lively. Your instructions are so easy to use and Star is clearly lovely and strong"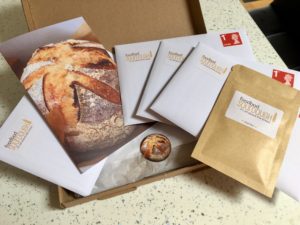 Follow me on Instagram for day to day sourdough news, share your bakes with me on Facebook, and always feel free to contact me with any questions x